Carre Furniture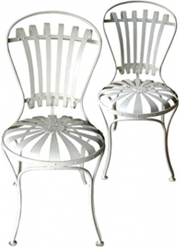 This design of seat was developed in the third quarter of the 19th century in response to the demand for seating required for Parisian open parks, boulevards and outdoor concerts. Its simple bent steel rod and spring construction, patented by François A Carre in 1866, was produced not only in Paris by the Val d'Osne foundries, but also Schlesinger Wiessener & Co of both Vienna and New York, and by Lalance & Grosjean again of New York, this company later purchasing the patent from Carre to produce these seats.
It is interesting to note that this design carried on being popular until 1930, proving resilient to the elements and equally at home in a public space or private garden.
It is also interesting to note that the majority of this collection was purchased from a private collection in Puerto Rico and was by repute used in a supporting role in the now cult television classic, Fantasy Island.